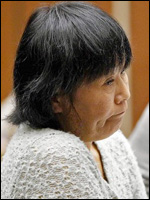 Asians behaving badly... city employee bribery scheme edition! In Los Angeles, a woman working in the Los Angeles Housing Department's Koreatown office allegedly collected payoffs and preyed on Korean immigrants:
Another city employee found preying on immigrants
.
Eun Chavis is accused of collecting $16,000 in payoffs from Glen Lim and his family, who spoke limited English and were trying to navigate the city bureaucracy and deal with the problems they were having with their apartment building. Chavis apparently said she could help them... if they gave her some cash:
For Lim and his mother, 62-year-old Jeom Kum Yun, the trouble began in 2006, when they started receiving citations from Housing Department inspectors. The Lims had added extra units to their property without the necessary approvals.

Lim's mother turned to Chavis, whom she had met at a Christmas party.

Chavis told Yun that she needed to pay to get proper documents, according to Yun and her son. Yun said she repeatedly took checks to Chavis at the department's offices on Wilshire.

The violation notices, however, kept arriving and their rental units remained empty. As their financial woes mounted, Chavis recommended a contractor to tear out the unpermitted work, Yun and Lim said. They took out a loan, Lim said, and paid the contractor $30,000.

Lim, 32, eventually filed for bankruptcy, and lenders foreclosed on his building. He sued the city, claiming his family suffered financially from Chavis' illegal activities, but a judge dismissed the case on procedural grounds. Lim is now suing Chavis.

"Whenever we think about what we lost, of course we get angry and upset," said Lim, who works at a credit card processing company.
What's remarkable about Chavis' case is that she was actually just a clerk typist with no real authority. But she was the only Korean speaker working the counter at the Housing Department's office, making her the first point of contact for confused and desperate landlords like Lim.
When it comes down to it, she saw an opportunity to pump some cash from a fellow Korean. And unfortunately, if there's money to made from another immigrant in need, somebody's going to be scheming. More here:
L.A. officials seek answers in alleged housing bribery case
.