15 Days. 15 APA Women. 15th Anniversary.
To celebrate the fifteenth anniversary of the
National Asian Pacific American Women's Forum
, we're partnering up with NAPAWF and
Hyphen
to spotlight 15 Women Warriors for 15 days, sponsored by 15 hosts. Meet today's spotlight: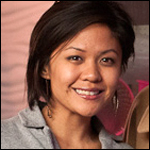 Theresa Navarro
Nominated by the
Center for Asian American Media
.
The Center for Asian American Media (CAAM) is the leading Asian American media arts organization in the nation. Since 1980, CAAM has been dedicated to presenting stories that convey the richness and diversity of Asian American experiences to the broadest audience possible. We do this by funding, producing, distributing and exhibiting works in film, television and digital media. Join us for our annual San Francisco International Asian American Film Festival from March 8-18, 2012, which is the largest showcase for new Asian and Asian American films.
Describe your name.
I'm the kind of person that answers to many names - usually a pet name or inside joke from orgs I've worked with or places I've lived. However, everybody in my family calls me "Ate" - a kind of Pilipino (Tagalog) honorific for female siblings or relatives. To me, it's much more than an inflated title for a bossy big sister authority figure; to me, "Ate" represents a dual sense of responsibility: respect for the generations that came before me and accountability to the generations to follow. This is what my cousins, parents, even grandparents call me; actually, my own brother didn't know my real name until we were in middle school!
How do you identify?
As a woman of color, I never experience only one aspect of my identity at a time; I am always simultaneous and shifting layers of self that shape the way the world sees me and how I see myself in it. On the macro level, I am Pinay, Asian/American, Queer/Ally; more intimately, I'm a Sister, Daughter, Homegirl, Lover, Advocate. I embrace the idea that identity is fluid and can and should be mobilized in ways that constantly defy being confined to checkboxes and expectations. I also make it a point never to take myself too seriously; I still see myself as a little brown girl dancing to Janet Jackson songs in the living room.
What's your passion issues?
Art, education, media, social history, culturally competent programs - I'm really attracted to projects and organizations that emphasize the importance of storytelling as a radical means of individual expression and community empowerment. I'm very passionate about expanding media literacy beyond the desire to simply render visible "the other;" through critical engagement with minority media, we can move from passive consumption with the overload of streaming images and sound bytes to actual structural reform against inequality and social injustice.
Best advice someone has ever given you.
My mom gives me the best advice: never do anything just for recognition or reciprocation, everything you do should come from your heart; and always leave room for dessert.
Who's your hero?
I'm constantly inspired by the everyday heroism in the people closest to me: women of substance like my mother, grandmothers, aunts, and sister-cousins; men of honor like my brother, father and grandfather; colleagues and homeys that provide a perpetual source of wisdom, rage and love. I'm also a proud public school kid and count myself fortunate to have been guided by incredible educators and scholars like the Forrests, Dean Cosine, David Stannard, and Karen Kosasa - who in turn introduced me to artistic and intellectual influences like Jessica Hagedorn, Cherríe Moraga, and bell hooks. A truly heroic presence in my life is my younger cousin, Zoe, who just turned 15 this summer and was recently diagnosed with a rare form of bone cancer - her amazing attitude and strength in the face of this difficult disease definitely motivates me to dig deep and push beyond my limits.
Biggest lesson you've learned as an APA Woman?
It was really important for me to learn that I don't have to sacrifice my individuality as a unique APA woman to channel my energy to the greater good, that community doesn't mean conformity. I was really encouraged to stand up and speak out because of my upbringing in a small but super diverse suburb in the San Francisco Bay Area. I grew up in westside Union City around among other children of immigrants from places like the Philippines, Viet Nam, Mexico, India, and the Pacific Islands and we were raised to celebrate the different cultures that comprised our community. We were immersed in the idea that there was strength in diversity; as a young Pinay, it was so affirming to know that our local high school offered Tagalog language and Ethnic Studies classes. It wasn't until I went away to college that I realized how atypical that really was. Even though I went to UC Riverside, one of the most diverse schools in the University of California system, I met many students who experienced intense forms of discrimination and silencing because of their difference. As part of the residence life staff and social orgs, I saw firsthand how meaningful campus programs engendered a strong and safe community space for otherwise marginalized students. I continued to seek out ways to support the multitudes of stories out there when returned to the Bay Area and began work with media organizations like the Center for Asian American Media. It's so beautiful and empowering to seek out the connections within and across communities - rather than reinforce boundaries of who is or who is not Asian/American, independent, queer.
Why support NAPAWF?
NAPAWF encourages young APA women everywhere to access the bigger picture and achieve their utmost potential. Much more than just an organization, it's a national movement to empower future leaders within a framework of sisterhood and social justice. With a holistic approach to women's issues, NAPAWF provides a much needed avenue to voice our shared struggles and success and I'm honored to support this incredible mission.
What advice would you give to other Asian Pacific American women?
Never limit yourself to others' perceptions of what you can or cannot do. We might not be able to attain perfection, but we can always strive to be our best possible self.
Favorite guilty pleasure?
Fresh butter, dark chocolate, and artisan cheese. Oh - and cooking competition TV shows like Chopped and Iron Chef. I'm not a particularly good cook but I'm always amazed at the alchemy of cooking, just the artistry and science of it all.
CAAM says:
Theresa Navarro wears many hats as a Filipina American arts professional, organizer, educator, producer, and actress. As a former Corporate Relations Manager for the Center for Asian American Media (CAAM), Theresa was integral to the fundraising and event planning team for CAAM's San Francisco International Asian American Film Festival, the largest showcase of Asian and Asian American film, music, and digital media in the country. She has appeared in independent filmsOption 3 and Fruit Fly and is currently an independent film producer. Along with CAAM, she has collaborated with various multimedia arts organizations in the San Francisco Bay Area, Hawaii, and across the country. Theresa has an M.A. in American Studies from the University of Hawaii at Manoa and a B.A. in History and Comparative Ethnic Studies from the University of California, Riverside.
Donate in honor of Theresa and CAAM:
Click
here
to help Team Theresa + CAAM in the fiercest fundraising competition in all the land.
To see the rest of the 15 APA Women Leader Spotlights, go
here
.