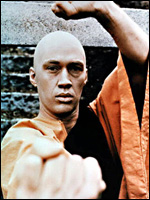 They're making a movie remake of
Kung Fu
. I'm talking about
Kung Fu
, the old 1970s television series. The show is famously remembered for starring a white actor David Carradine, as a half-Chinese Shaolin monk. Whaaaaat.
Legend has it, the role of Kwai Chang Caine was originally conceived by and intended to star Bruce Lee, who was ultimately passed over by network execs who feared American audiences weren't quite ready for an Asian lead. Whaaaaaat.
Nope, still haven't let that one go. Never forget.
A
Kung Fu
feature film remake has actually been
in the works
for a while. They even sent out open
casting calls
for the role of Caine. But that was nearly three years ago, so I guess that version never got off the ground.
The latest news: actor Bill Paxton, star of HBO's
Big Love
, is in talks to direct a screen adaptation of
Kung Fu
, with a script by John McLaughlin, to shoot partly in China next summer:
Bill Paxton In Talks To Direct 'Kung Fu.'
Lots of red flags, and I'm not sure what would even be the point. Is this really happening? The guy who played Chet in
Weird Science
is going to direct
Kung Fu
? Has anyone considered how strange that sounds?
But the real burning question:
who will play Kwai Chang Caine?
Would they consider casting someone of actual Asian descent? It's almost unthinkable!
Then again, as I've wondered before, wouldn't it be perversely fitting if they cast a Carradine-esque white guy in the role? The yellowface is such a big part of what I love to hate about
Kung Fu
. Then I could just go on hating.