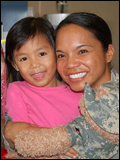 This is a sad but inspiring CNN Heroes story on Navy Lt. Florence Bacong Choe, who was killed in March 2009 while serving in Afghanistan, leaving behind a husband and young daughter:
Moving on when mom is killed at war
.
Her husband, Navy Lt. Comdr. Chong Choe -- one of only about three dozen American men who have lost wives in Iraq and Afghanistan -- found himself thrust into a unique and unfamiliar new role as a widower and single father:
Of the 142 U.S. service women who have died or been killed in Iraq and Afghanistan, only about three dozen were married. The husbands they left behind range in age from their early 20s to mid-50s. Many are fellow service members. Some are parents who must take on the responsibilities of being a single father while still mourning their wives and working around the clock.

"I was thrust into a role I wasn't familiar with," Choe said. "Being a single father, I initially found it very difficult in terms of emotional support that I felt I could provide to a little girl.

"There is no magic formula. There's no recipe for parenting in general. But as a single father, I feel that it's brought more awareness in terms of the need for that nurturing role, even more so in my life.

"In a way, through hardship, it has made me a better man because of my child, because I realize there are roles that I need to take on."
I remember writing about Florence Choe's death
back in 2009
. This is a story about what happens to her family after the tragedy. The part about breaking the news of Florence's death to her parents and their daughter is particularly heartbreaking. Best wishes to the Choe family during this time of remembrance.