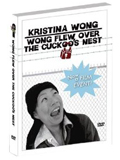 Yippee! People, if you haven't heard, the concert movie version of our performance artist friend Kristina Wong's widely acclaimed solo show
Wong Flew Over the Cuckoo's Nest
is now available on DVD.
Using humor and truth to address the alarming issue of suicide and depression among Asian American women, Kristina toured with this show for five years. If you missed it, now you can catch on DVD. Here's the official back-of-the-box synopsis:
After playing sold out crowds from Alaska to Los Angeles to New York City to Yale, Kristina Wong's unforgettable one woman tour de force performance of "Wong Flew Over the Cuckoo's Nest" is captured on film with: "Aggressive and dynamic direction by Michael Closson" - Film Threat "Wong Flew...." tackles the high incidence of suicide and depression among Asian American women with lots of hip, smart and edgy comedy. The live show has toured for four years to some 50 universities and theaters around the United States. Professors and Mental Health Professionals: Post-show discussions open the opportunity for mental health professionals at schools and community centers to speak frankly about a subject that is often shrouded in cultural shame and secrecy. The show's humor allows audience members of all backgrounds to share honestly about their own experiences with depression and suicide, working towards healing, validation and community health.
If you represent a school or library, and would like to add the DVD to your institution's collection, go
here
to purchase an education edition with the proper license. And for more information about the show, go to the
Wong Flew Over the Cuckoo's Nest
website
here
. Also see Kristina Wong's website
here
.