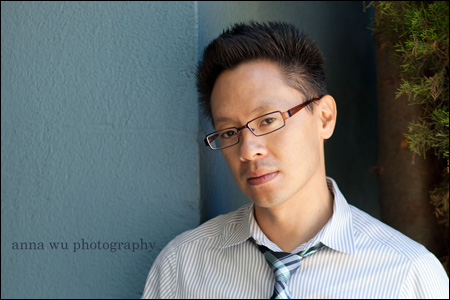 Now for the last time in 2011... It's the
Angry Reader of the Week
, spotlighting you, the very special readers of this website. Over the years, I've been able to connect with a lot of cool folks, and this is a way of showing some appreciation and attention to the people who help make this blog what it is. This week's Angry Reader is HoChie Tsai.
Who are you?
HoChie Tsai, a proud 2nd generation Taiwanese American on a mission to help young people discover and fulfill their greatest potential.
What are you?
I am a community organizer, motivational speaker, activist and pediatrician. Many people today know me as the creator of TaiwaneseAmerican.org, a website highlighting the interesting events, organizations, and people of Taiwanese America. But, I also have a long history of leadership roles in various Asian American organizations. On the West Coast, I'm known as the founder of Taiwanese American Professionals - San Francisco. In the Midwest, I'm mostly remembered as the founder of the Asian Pacific American Coalition and the activist leader who popularized a student movement that resulted in the establishment of an Asian American Studies program and Cultural Center at the University of Illinois at Urbana-Champaign. On the East Coast and in the Midwest during the 1990s, I was known in the community as a Taiwanese American summer camp program director/founder. Even today, you'll find me still volunteering at camps across the country, but now I work for the directors who used to be my camp kids.
Where are you?
I'm based in the San Francisco Bay area. I live in Berkeley and work in Oakland. But frequently, you'll find me jet-setting around the country speaking at various conferences and summer camps, or working on projects related to
TaiwaneseAmerican.org
. My friends can't keep track of me because I'm a little bit everywhere. Tonight, as I answer your questions, I'm working an overnight shift at the Children's Hospital in Oakland, but when this interview is published, I'll be in Houston or Chicago.
Where are you from?
I grew up in the Chicago suburbs, and spent my undergrad years at the University of Illinois at Urbana-Champaign and my graduate and medical school years at the University of Illinois at Chicago. I take pride in my Midwestern roots because that minority experience, though sometimes difficult to navigate, shaped who I am and what I do today.
What do you do?
By day, I manage
TaiwaneseAmerican.org
web/media content, think up awesome project ideas, and connect with people to get stuff done. I also enjoy speaking to youth and collegiate audiences, and I hope to inspire the next generation in discovering their values and passions so that they can make a positive impact. I also dabble as an angel investor supporting Asian American artists and projects. By night, I am a pediatrician doing urgent care and hospitalist work in under-served communities. I enjoy taking care of children and making sure their most basic needs are met starting with their health and sense of security. From there, and armed with some love and passion, I believe they have the potential to do just about anything.
What are you all about?
I am all about grassroots movements and "building up" the people around me. There is so much talent and passion in the community that surrounds us, but too often, it goes unnoticed or overlooked. If we can look beyond ourselves and bring out the greatness of other people, I know we can make change for the better. I've seen it happen with hundreds of young people I've worked with in the past two decades. The lesson? Lift others up above yourself, and you might be surprised when they reach back and pull you right up there with them. In the end, we all rise up together.
What makes you angry?
Lack of Respect and Understanding... for self, for others, for marginalized communities, and for diversity of opinions.