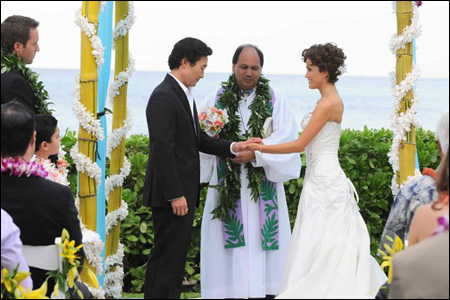 If you've been following along with CBS'
Hawaii Five-0
, you know there have recently been some pretty big developments in the personal life of Detective Chin Ho Kelly, played by Daniel Dae Kim. In next week's episode, Chin ties the knot with Malia, played by fellow
Lost
alum Reiko Aylesworth.
You know me. I'm certainly not going to pass up the chance to take note when two Asian American characters get to do some romancin' on a prime time network television show. Here's a first look at the TV island nuptials:
EXCLUSIVE First Look: A TV Wedding, 'Hawaii Five-0' Style
.
Of course, the episode will also include crimes and bad guys and guns and murder. This is a cop show, and these characters live on the most dangerous island on television. You can catch the next episode of
Hawaii Five-0
, "Alaheo Pau'ole," on Monday, December 12 on CBS.