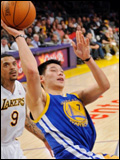 Ugh. What a rocky road it's been for Jeremy Lin. Earlier this month, the Harvard hoops star got
dropped from the Golden State Warriors
. No doubt, it had to suck to get dropped by the hometown team, but Jeremy was soon picked up by the
Houston Rockets
.
Alas, his time there was short-lived. Over the weekend, the Rockets released Jeremy to reduce the team to fourteen players and clear some room on the roster:
Rockets release Lin to make room on roster for Dalembert
.
But hold up, this roller coaster ride ain't over. Not too long after Houston let him go, Jeremy was claimed by the New York Knicks. Looks like the young man from Palo Alto is headed to Madison Square Garden:
Knicks claim guard Jeremy Lin
.
The New York Knicks have claimed guard Jeremy Lin off waivers.

Lin was released Sunday by the Rockets to make roster room for Houston's signing of Samuel Dalembert.

The Rockets had claimed Lin off waivers after he was released by the Golden State Warriors, who had to let him go to create the requisite salary-cap space for a four-year offer sheet worth nearly $43 million to then-restricted DeAndre Jordan that was matched by the Los Angeles Clippers.

Lin is a Bay Area native who played in 29 games last season as a rookie with the Warriors, becoming the NBA's first Asian-American player since 1947.
The bad news is, Lin's contract with the Knicks is not guaranteed, so he could be cut at any time. After all the bouncing around he's had to do in a relatively short span of time, let's hope he gets to settle in with this team and show them what he can do. Play your ass off, Jeremy.