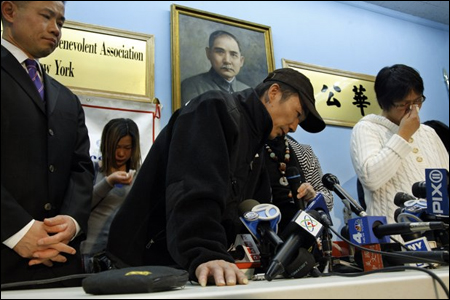 This week, Army officials met with the parents of Pvt. Danny Chen, who committed suicide in Afghanistan after being subjected to racially charged hazing and bullying from his fellow soldiers. His family was briefed with new details about his treatment -- and it's an ugly portrait of the cruelty he had to endure:
Private Chen's Family Learns More About Hazing by Fellow G.I.s
.
Private Chen's family and supporters held a press conference yesterday, where they disclosed some of the details of the abuse, and said that officers in command of Chen's battalion were aware of the harsh treatment he had repeatedly received -- nearly every day of his six-week service in Afghanistan:
The family had already been told by investigators that other soldiers had taunted Private Chen with racial epithets and forced him to crawl on the ground while they pelted him with rocks. But this week, new details of his treatment were disclosed to the family.

At a news conference, family members and their supporters said Private Chen had been mistreated virtually every day of his six-week stint in Afghanistan. They said he had been called a "gook," a "chink" and "dragon lady." He was also forced to wear a green helmet and shout orders in Chinese, to a battalion that had no other Chinese-American soldiers, they said.

Previously, the family "had no idea of the extent or how long this mistreatment had been going on," said Elizabeth R. OuYang, president of the New York chapter of OCA, a civil rights group. Ms. OuYang, who is a lawyer, declined to comment further about ranking officers' knowledge of the harassment of Private Chen.
"We inculcate our soldiers with the need to treat all with dignity and respect." My ass. When you read about abuse like this, is it possible to fathom that Chen's fellow soldiers even viewed him as human? Because something has to turn off in your brain to treat a fellow human being like this.
The Army has charged eight members of Private Chen's battalion, including one officer, in connection with the death. Private Chen's family is calling for any trial by court-martial be conducted in the United States, not in Afghanistan, to ensure greater transparency. More here:
Slain Chinese-American GI's family wants soldiers tried in US
.