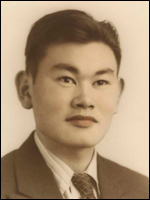 Next month in Washington DC, civil rights icon Fred T. Korematsu will become the first Asian American to receive a well-deserved place in the Smithsonian's National Portrait Gallery permanent exhibition,
"The Struggle for Justice,"
which features of the images of American cultural and political heroes.
Two 1940s-era original photographs of Korematsu -- gifts from the Korematsu family -- will be presented at a private ceremony on February 2, just days after the second annual Fred Korematsu Day. Here's some more information on "The Struggle for Justice," from the Korematsu Institute's
press release
:
The National Portrait Gallery's "The Struggle for Justice" exhibition opened in 2010 and features many images of individuals who have worked on behalf of civil rights, including Dr. Martin Luther King, Jr., Eunice Kennedy Shriver and César Chávez. The museum, which drew in one million visitors last year, is the first museum not specifically focused on the Japanese American experience to include Mr. Korematsu's story. To date, the Japanese American National Museum in Los Angeles, the Japanese American Museum of San Jose, CA, the Manzanar Interpretive Center in Independence, CA, and the Heart Mountain Interpretive Learning Center in Powell, WY all feature Mr. Korematsu in their exhibits.

"The Struggle for Justice" is a growing exhibition that will continue to evolve," said Martin Sullivan, director of the National Portrait Gallery. "I am proud to include Fred Korematsu in this exhibition and to continue to tell his story alongside those who have worked on behalf of those who are striving for equality and inclusion."
Here's the Smithsonian Asian Pacific American Program's blog post on Fred Korematsu and the new photographs joining "The Struggle for Justice" exhibition:
Fred Korematsu and The Struggle for Justice
.
As I've mentioned before, there are a bunch of
Korematsu Day events
taking place this month in California, Washington DC and Hawaii. For the full, updated list of events, go to the Korematsu Institute website
here
.