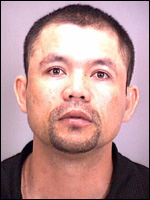 In San Jose, a police SWAT team shot and killed a suspect who allegedly kidnapped his ex-girlfriend's 11-year-old daughter from her home at gunpoint:
Police find San Jose girl unharmed, shoot and kill abductor
.
42-year-old Tri Truong Le was killed with a single shot at his apartment, after opening fire on officers while holding 11-year-old Taylor Vo hostage. He was pronounced dead at the scene. Authorities had issued an Amber Alert for Vo, who was abducted early Friday morning:
At 12:15 p.m., officers from the San Jose police special operations tracked him down. They quickly surrounded a two-story green-and-beige townhouse in the 3400 block of Pistachio Drive off Senter Road.

As officers set up a command post to see if they could get him to peacefully surrender, the suspect appeared in the window of the townhome with the girl in his arms and fired a handgun at officers.

The officers went into instant hostage rescue mode. They forced open the townhome front door.

Le was still holding the girl in his arms at the top of the stairs when he began firing at the officers. Jimenez fired back with his assault rifle, without hitting the girl, and killed the man.
Le was apparently using Taylor as a hostage to get to her mother, his ex-girlfriend. Considering that she was in the kidnapper's arms when the shooting started, it's amazing she was unharmed. This could have turned out so much worse. More here:
Kidnapped S.J. girl is found safe; abductor slain
.