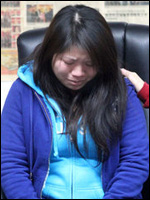 Damn, this community cannot catch a break. More tragic news of violence against Asian American business owners in the Philadelphia area. On Friday night, the owner of a Chinese restaurant was shot and killed by two robbers during a hold-up:
Tacony takeout owner fatally shot in robbery
.
27-year-old Xiang Huang, father to three young children, was murdered in cold blood -- right in front of his wife and 8-month-old baby girl -- and their corner store/takeout restaurant. He was standing behind the counter when one of the assailants shot him in the chest, killing him instantly:
Zheng's nightmare began shortly before 7 p.m. Friday, when two black men dressed in black - one tall, one short, both wearing ski masks - entered the store, Jin House at Longshore Avenue and Tulip Street, as Zheng sat behind the counter holding their 8-month-old baby, Anna.

"Open the register!" the intruders yelled, raising guns at her, Zheng recalled. Huang went to open the register, and, Zheng said, they both told the robbers: "You can take the money out!"

Zheng then went to the rear of the store - which does not have a protective glass barrier because they couldn't afford it - to put the baby down. But before she could do so, she said, she heard a gunshot. She ran back to find her husband on the ground, then called 9-1-1. When police came, she asked them to bring him to a hospital, but they said they had to wait for an ambulance, she said.

When the ambulance arrived, "he was already dead," she said tearfully. Huang, shot in the chest, was pronounced dead at the scene at 7:13 p.m.
Just last week -- the night before, actually -- local authorities held a gathering of Asian Americans from throughout the region to raise awareness and provide safety tips following the recent
shooting
of a Chinese American deli owner outside a bank in Cheltenham:
Asian business owners feeling the bull's-eye
.
Meanwhile, supporters from around Philadelphia's Chinese community have come together to raise nearly $10,000 for Xiang Huang's family:
Philadelphia Chinese community rallies to support slain robbery victim's family
.
Anyone with information about Friday's fatal robbery is asked to call Philadelphia homicide detectives at 215-686-3334.