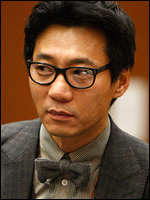 Pinkberry co-founder Young Lee,
who was arrested
this month on assault charges for allegedly beating up a homeless man, has pleaded not guilty:
Pinkberry co-founder pleads not guilty to tire iron assault
.
Lee was charged with assault with a deadly weapon after an altercation with a homeless man at a freeway offramp last June in Los Angeles. Lee apparently got angry with the guy's "sexually explicit" tattoo, chased him down with a friend and beat him with a tire iron:
According to the Los Angeles Police Department, Lee was driving a rented Range Rover on the 101 Freeway in June 2011, with an acquaintance in the passenger seat. When he got off the freeway at Vermont Avenue in East Hollywood, he spotted a transient who had been asking passing drivers for money.
The man was changing into a sweatshirt, revealing a sexually explicit tattoo, and Lee seemed to have viewed the tattoo as a suggestion of disrespect, a police official said. Lee rolled down his window and apparently got into an argument with the man, then parked on Vermont and left his car to confront the man.

Lee demanded that the man kneel and apologize, and the man consented, officials said. But Lee attacked him anyway, chasing him down, kicking him and "beating him down" with a tire iron, LAPD officials said.
Lee is free on $60,000 bail, and is expected to return to court for his next scheduled hearing on March 5. In the meantime, you better not cross him, and keep your tattoos to yourself -- especially anywhere near a freeway offramp. More here:
Young Lee, Pinkberry Co-Founder, Pleads Not Guilty On Assault Charge
.