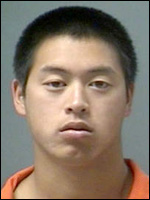 Last year, I posted about 19-year-old James Malecek, who was
charged in the death
of another teen after punching him in the head during a fight. Last week, the parents of the victim filed a wrongful death suit against Malecek and his family:
Family of Mt. Carmel student killed in Indiana fight files lawsuit
.
Malecek apparently "sucker punched" 17-year-old Kevin Kennelly in the head, sending him to the hospital where he died of massive brain trauma. He was arrested on charges of aggravated battery, involuntary manslaughter and battery. And now, Kennelly's parents are suing Malecek, his sister and their mother:
The suit alleges James Malecek and his sister were drunk and that she instigated a disturbance that led to her brother allegedly trying to start a fight with one of Kennelly's friends. The suit also alleges James Malecek punched Kennelly after Kennelly asked him to calm down.

According to the complaint, Marguerite Malecek "gave, supplied, encouraged or permitted" her daughter, who was a minor, "to go to the beach supplied with alcoholic beverages." Marguerite Malecek is also accused in the suit of destroying evidence by picking up her children after they fled the beach, preventing police from gathering evidence of her children's alleged intoxication.
What has always disturbed me about this case is
why
Malecek got into a fight in the first place. James and his sister happen to be Korean American adoptees, and according to witnesses, the fight apparently broke out over some kind of racial harassment. That certainly doesn't justify anyone's death, but I'm saying I can sympathize with someone who's been on the receiving end of racial prejudice.
But in the end, a guy is dead, and that's tragedy. No lawsuit is going to bring him back. More here:
Wrongful Death Suit Filed in Long Beach Case
.