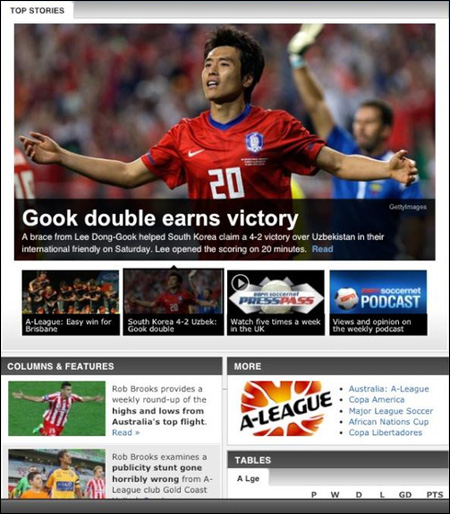 You've got to be kidding me. Just a week after ESPN got into some trouble for posting that dumbass
"chink in the armor"
headline about Jeremy Lin, we get another racially insensitive headline:
ESPN Had Another Headline Issue Today, And This One Included The Word "Gook."
This one looks like it was an ignorant mistake. The "gook" refers to soccer player Lee Dong-Gook of South Korea -- the headline writer stupidly mistook the second half of his given name for his surname. It should read "Lee," but instead we get an inadvertently offensive headline. Deadspin caught it first:
Here's how the headline to this story looked early Saturday morning on ESPN's Soccernet site. We actually got a tip about it from Andy W, but dismissed it because we'd never heard of Lee Dong-Gook and figured ESPN had Westernized the order of his name (in other words, that his given name was Lee and his surname was hyphenated).

That, alas, wasn't the case. "Gook" is actually just part of Lee's given name, and not an especially descriptive one, either. Nobody who knew what they were doing would use "Gook" to mean Lee Dong-Gook, and you'll note that the article has since been changed to use Lee's surname.
I honestly don't think there was malicious intent here, unless some idiot editor was trying to be clever... but man, this is still pretty stupid. After everything that went down last week, you'd think they'd be policing headlines with a serious eye for anything that could be remotely perceived as controversial. Whatever the case, it's a hell of a mistake.
UPDATE: AAJA National President Doris Truong has a little more background information on the whos and hows of the headline:
I had a brief chat with ESPN SVP Rob King today about the headline that appeared over the weekend involving the name of South Korean soccer player Lee Dong-Gook. Rob clarified that it appeared on ESPN.co.uk, a work group over which he has no direct authority but with which he is working to establish uniform workflows and guidelines.

The headline was changed at the request of ESPN's U.S.-based soccer editor, who is aware of ongoing discussions about the need for sensitivity in coverage.

Let's keep in mind that what resonates with a U.S. audience doesn't necessarily have the same impact elsewhere. For an international company such as ESPN, cultural differences are going to come up from time to time.
Sensitivity, indeed.