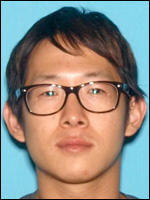 What the hell. Some crazy horrific news out of New Jersey, where a man has been charged with murder for repeatedly running over his girlfriend with his car after she tried to break up with him:
Fort Lee hit-and-run suspect Charles Ann accused of running down girlfriend
.
In Fort Lee, 26-year-old Charles Ann reportedly struck his girlfriend 25-year-old Aena Hong with his car, backed over her, then ran over her again -- approximately three times. Ann is charged with first-degree murder and is being held on $3 million bail:
Charles J. Ann is accused of running over Aena Hong, 25, also of Fort Lee, police said. Hong, who was trying to end a tumultuous relationship with Ann, was arguing with him while she walked along an Inwood Terrace sidewalk near Anderson Avenue about 5 p.m. Monday.

Ann is accused of driving away but turning around, at one point driving through a parking lot, and turning left onto Inwood Terrace before he came to a complete stop. As Hong crossed the street, Ann is accused of rapidly accelerating and hitting her, said First Assistant Prosecutor John L. Higgins III.

"Once she fell to the ground, he drove over her and drove back over her approximately three times," Higgins said the evidence shows.
Headlines are calling it a hit-and-run, but that almost seems too mild to describe what happened. This was vicious. There is something seriously wrong with this guy -- a danger that Aena Hong, tragically, discovered too late. More here:
Fort Lee man charged with murder in hit-and-run
.