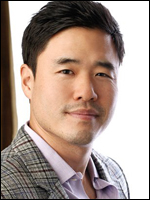 Got some good news last week that our friend Randall Park has been cast in a new CBS sitcom pilot from Nick Stoller, writer/director of movies like
Forgetting Sarah Marshall
and
Get Him to the Greek
:
Bridget Regan, Ethan Embry, Randall Park & Jake McLaughlin Among Pilot Additions
.
In the as yet untitled ensemble comedy, loosely based on Stoller's twentysomething experiences, Randall will play "a hipster Korean art director" who works at an ad agency. All right. As long as he's not, you know, that guy on
2 Broke Girls
:
Chris Smith and Randall Park have been added to CBS' single-camera comedy pilot from feature writer-director Nick Stoller (The Muppets). Stoller wrote and will direct the untitled project loosely based on his real-life experiences. Produced by 20th TV and Chernin Entertainment, it is a twentysomething ensemble comedy that centers on Jake (Michael Angarano), a commitment-phobic ad agency exec who, after breaking up with his girlfriend Laura, realizes he has to continue working with her one cubicle away. Smith, repped by Paradigm and Principato-Young, will play Graham, the Southern very confident best friend of Jake and a co-worker at the ad agency. Park, repped by TalentWorks and Principato-Young, will play a hipster Korean art director who works for Laura. The casting of Park comes on the heels of him doing Stoller's movie The Five-Year Engagement, which opens in April.
Some of you might be fans of Randall from the Nickelodeon show
Supah Ninjas
, which is cool. But I've been really waiting to see Randall get the chance to flex his comedy chops on a primetime show. In the meantime, you can catch him this April in Nick Stoller's upcoming comedy
The Five Year Engagement
.