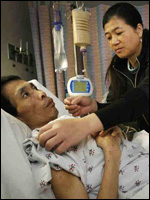 Some tragic news out of Philadelphia, where a Chinese takeout owner who was brutally attacked and subsequently confined to a hospital bed for nearly two years, died last week:
Chinese-takeout attack victim dies
.
44-year-old Jicun Wu was assaulted by a disgruntled customer outside his business in June 2010. 21-year-old Malik Niblack repeatedly punched and kicked him in an attack that severely damaged his pancreas and intestines. He never fully recovered:
The assault followed an argument Niblack had with Wu's wife. He had accused her of charging him 25 cents too much for something he had bought, she has said.

In his police statement, Niblack said he didn't stop attacking Wu even as the victim "balled up."

"I kicked him a couple more times," Niblack said. "He was making this funny noise. He was screaming. It was funny. I started laughing at him."

Niblack, who pleaded guilty to attempted murder last year, is serving a six-to-15-year sentence in state prison.

The District Attorney's Office on Friday said it is deciding whether it now will charge Niblack with murder.
Wu's widow, Qinhui Chen, reportedly doesn't have any money to pay for his funeral. People who would like to help Chen may send checks in her name to: Greater Philadelphia Fujian Association, c/o Mei Ren, president; 905 Arch St., Room 202; Philadelphia 19107.