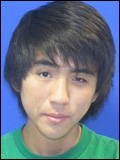 Crap. Not the news I want to start my week. In Maryland, a college has been arrested and charged with posting an internet threat claiming he planned to go on a campus shooting rampage and hope to kill as many people as possible:
UM student charged with threatening a 'shooting rampage.'
And yes, dammit, the kid is Asian American. 19-year-old Alexander Song, a sophomore at the University of Maryland, was taken into custody when authorities were alerted that he had posted plans for a shooting rampage the next day that would "make national news":
Campus police said in a statement that 19-year-old Alexander Song, of Fulton, Md., had been identified as the person who posted plans on a website for a rampage.

"I will be on a shooting rampage tomorrow on campus," police quoted Song as saying in the Saturday posting. "Hopefully I kill enough people to make it to national news."

The message also warned people to "stay away from the mall." Police did not elaborate.

Capt. Marc Limansky told the Baltimore Sun that police were informed of the alleged threats after a former student noticed them on reddit.com. Two people also contacted the university after chatting with Song on omegle.com, Limansky added.

A sophmore honors student, Song was taken to a hospital for a psychiatric evaluation after his arrest Sunday.
I'm going to be honest. Ever since Seung-Hui Cho's 2007 shooting rampage at Virginia Tech, I instinctively wince when I glimpse headlines about similar incidents, and then pray that the allegedly shooter isn't Asian.
Thank God, in this case, some concerned folks took these statements seriously. I don't know if this guy was making real threats or was just messing around, but better to be safe than sorry. You just don't say shit like that without raising some red flags.
Song faces a misdemeanor charge of disturbing school activities and is no longer allowed on campus pending a review. Whatever compelled him to make these threats, I hope he gets some help. More here:
Cops: University of Maryland student vowed rampage would 'make it to national news.'