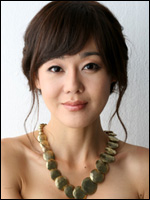 I was happy to hear that actress Yunjin Kim, who played one half of everybody's favorite Korean couple on
Lost
, has landed a lead role on the upcoming ABC drama
Mistresses
, to premiere next year:
'Lost's' Yunjin Kim to Star in ABC's Summer Series 'Mistresses.'
Mistresses
is an adaptation of the BBC One series, and centers on four women balancing scandalous, complex love lives. Kim will play Karen, a therapist who was having an affair with one of her patients before his death:
The project, a remake of the 2008-10 British series of the same name, is described as a provocative thrilling drama that finds four women with scandalous romantic lives caught in storms of excitement and self-discovery, secrecy and betrayal, and at the mercy of the complex relationships they've created.

Kim will play Karen, one of the four women, alongside the previously cast Rochelle Aytes and Jes Macallan.
This will be Yunjin Kim's first television role since the end of
Lost
almost two years ago. I loved her that show, but I always felt she was seriously underutilized. It'll be great to see her tackle something really juicy and fun.