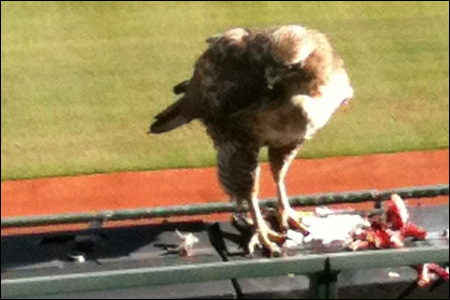 I love this. It's spring, and that means baseball. And the newest member of the San Francisco Giants' roster is a hawk named
Bruce Lee
. Seriously, an actual hawk:
Giants' New Left Fielder Only Catches Fowls
.
A red-tailed hawk that recently took up perch in left field of AT&T Park has apparently become the answer to the ballpark's growing pigeon and seagull program. He's a predator! And Giants officials have named him Bruce Lee.
Gleeful Giants officials named the young red-tailed hawk after the famous San Francisco-born martial artist, after watching the bird catch and devour pigeons that soil the ballpark and steal grass seeds from its turf.

"It's a warrior," said Jorge Costa, the Giants operations director. "You don't mess with it."

The hawk, which took up a perch high above the third-base side of the park in November, has been spotted in the skies above the ballpark in aerial duels with crows and gulls. But, for the most part, "whenever it's even remotely in the area," Costa said, "there is no bird activity of any kind here."
Beware, you pesky seagulls! Or get your ass kicked by Bruce Lee.
I wonder if Bruce the hawk will be honored by the Giants on September 4, which is of course,
Bruce Lee Tribute Night
. Yes, they're honoring the actual Bruce Lee and giving out collector's edition Bruce bobblehead. (Thanks, David.)