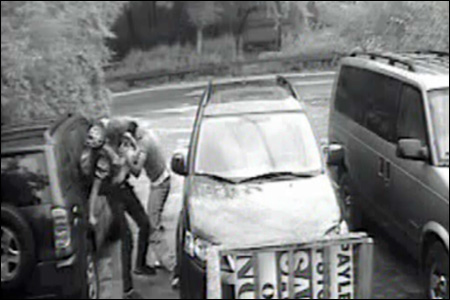 So get this... In Toronto, an Indian restaurant owner is facing assault charges after fighting with a man who he says repeatedly stole from him and his business:
Restaurateur charged after scuffle with alleged thief
.
They're calling Naveen Polapady the "Spiceman." While fighting off the alleged thief last summer, he apparently threw "a mixture of spices" in the would-be robber's eyes. It was the last straw in a string of attempted thefts that resulted in no arrests. The Spiceman took matters into his own hands.
However, police didn't quite agree with Polapady's unique flavor of vigilante justice. When all was said and done, he was charged with assault causing bodily harm, assault with a weapon and administering a noxious substance:
The situation came to a boiling point last August when Polapady decided to confront the man. On Aug. 17, Polapady's van was broken into and a GPS unit stolen. The theft was caught on his security cameras. Four days later, Polapady spotted the man in the alley behind his restaurant and confronted him.

Polapady armed himself with a broom handle and the two men tussled in a confrontation captured by a surveillance camera.

Police allege that Polapady was hiding in the bushes with the intention of ambushing the alleged thief on that day. Polapady denies it was an ambush and says he saw the man trying to break into one of the vehicles on his property and was trying to stop him.

During the tussle, Polapady struck the man with the broom handle and - during a portion of the struggle that happened off-camera - threw spices into the man's face.
You can't blame a guy for wanting to defend his business and family, especially when it seemed like the authorities weren't doing anything about it. So it's weird when there's a scuffle, and the guy
not
doing any stealing ends up in handcuffs.
Understandably, there has been quite a bit of community support for Polapady. More here:
'Spiceman' charged for tossing seasoning at would-be thief
.