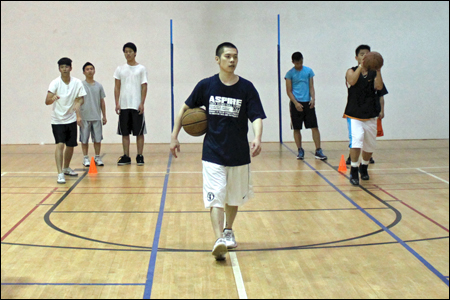 It's time to meet another
Angry Reader of the Week
, spotlighting you, the very special readers of this website. Over the years, I've been able to connect with a lot of cool folks, and this is a way of showing some appreciation and attention to the people who help make this blog what it is. This week's Angry Reader is Ren Hsieh.
Who are you?
Ren Hsieh
What are you?
Male, 34, 5-9, 155 lbs, Chinese-Taiwanese American, social entrepreneur, coach, writer, reader, stutterer, sports enthusiast, film snob, dog owner, cat owner, burger lover, Comic-Con regular, bottle cap collector, 2012 Makarora Township St. Patty's Day Karaoke Champion.
Where are you?
Brooklyn, Earth
Where are you from?
Sugar Land, TX. Better known as the home of KevJumba.
What do you do?
I'm the founder and executive director of
Dynasty Project
, a not-for-profit organization dedicated to promoting and supporting athletics in Asian American communities particularly in low-income neighborhoods.
From time to time, I blog for
OurChinatown.org
, occasionally about sports, and I'm currently a guest curator at MOCA Museum of Chinese in America where I'm developing a project on the history of athletics in New York Chinatown.
What are you all about?
Right now, I'm all about bringing culturally rich but otherwise socially disengaged communities together. New York City is dense and diverse and yet neighborhoods can still feel very segregated.
Two upcoming Dynasty Project programs, the
PS1 Playground Restoration Project
and LES-Chinatown Youth Basketball League, are built specifically to bring together not only Asian Americans throughout the city but also the diverse residents of the Lower East Side and Chinatown through organized sports and volunteering. We're trying to bring everyone together in a unified effort to build this community up and make it a positive place to grow for generations to come.
That's my current obsession. And,
Game of Thrones
.
What makes you angry?
Like anyone else, I've yelled, cursed, spit and stomped and usually it's a result of some sporting event. But anger, true anger, takes too much energy. I'm not suggesting apathy either. There are certainly very troubling facets of the human condition. Its important to me to be aware and act on being a compassionate and contributing piece of humanity and not let the condition turn me into another cynic. I work to be a contributor every day and it leaves little time to be angry for more than four quarters at a time.