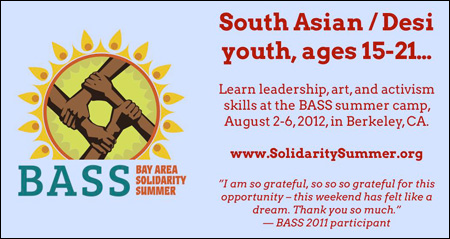 This is a call out to South Asian American teenagers in the Bay Area... You're invited to take part in the
Bay Area Solidarity Summer
(BASS), a five-day, four-night camp where participants will learn about progressive issues, gain organizing skills, connect with South Asian activists and practice leadership. It's happening August 2-6 in Berkeley. Here are some more details:
BASS 2012: August 2-6, 2012

The 2nd annual Bay Area Solidarity Summer (BASS) is taking place August 2–6, 2012. Join Desi teens from across California at a residential summer camp in Berkeley, CA to learn about social justice issues affecting South Asians, art and leadership skills, and the legacy of South Asian activism.
BASS 2012 will include workshops, panels, a field trip, and lots of opportunities for arts and activism. BASS is an environment where Desi youth can feel safe, supported, and inspired.

BASS is run by a diverse group of volunteers of South Asian descent, including teachers, organizers, artists, programmers, lawyers, health professionals, and students working to increase civic engagement and social justice education for South Asian youth.

BASS is a project of the Alliance of South Asians Taking Action (ASATA).
If you or a young person you know is interested in taking part in BASS, they should get on it quick -- the deadline to apply is this Friday, May 25. Fill out the application
here
. They're also looking for volunteers and donations. For further information, go to the Bay Area Solidarity Summer website
here
.