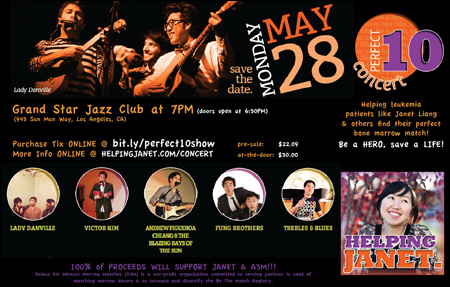 Los Angeles! Here's a good one. On Monday, May 28, come to Chinatown's Grand Star Jazz Club for
Team Janet Presents: Perfect 10 Benefit Concert
.
Catch performances by Victor Kim, Andrew Figueroa Chiang and the Blazing Rays of the Sun, the Fung Brothers, and more. The night will include stories from blood cancer patients and a bone marrow drive in the continued effort to bring awareness to
Janet Liang's cause
and find more matches to save lives.
More information:
PERFECT 10 CONCERT
Monday, May 28
7:00pm

An awareness event and concert fundraiser to help Janet Liang and other blood cancer patients find their life-saving marrow match.

WITH PERFORMANCES BY:
Lady Danville - http://ladydanville.com/
Victor Kim - http://www.victorking.com/
The Fung Brothers - http://www.fungbrothers.com/
Trebles & Blues - http://www.treblesandblues.com/
Andrew Figueroa Chiang and the Blazing Rays of the Sun - http://andrewandthebrots.com/

We will be highlighting the brave stories of blood cancer patients, celebrating community organizations, including Asians for Miracle Marrow Matches (A3M), and hosting a live bone marrow drive throughout the night (just takes a few cheek swabs to join!).

More info: http://helpingjanet.com/concert/
Tickets: $20 (+$2.09 service fee) presale, $30 at the door
http://perfect10show.eventbrite.com/
18+ event

All proceeds will go toward funding Janet's medical expenses and A3M.

Every year, 10,000 patients are in need of bone marrow transplants to help them beat blood cancers. Finding a match can be very difficult, especially for minorities. Only 2% of the U.S. population is registered as potential donors, while Asians make up only 7% of the national registry.

We hope to not only raise money for Janet and A3M, but most importantly, inform and inspire others to spread awareness and support this cause so that Janet and all patients in need can find their perfect 10/10 marrow matches.
Tickets are $20 if you
buy them early
. For further details on what's in store, go
here
. And for more information on Janet Liang and the cause, go
here
.