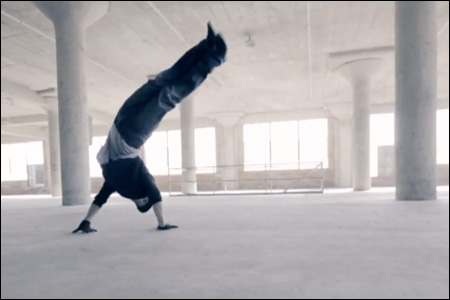 Holy crap. This looks awesome.
DS2DIO
(pronounced D-Studio), the world's first dance lifestyle channel, is set to launch on YouTube his June. Created by writer/director Jon M. Chu and producing partner Hieu Ho -- the channel will feature a slate of original programming reflecting a passion for dance. Here's the
trailer
:
The people behind this project have already had some success in this genre, with the wildly popular
LXD
web series. I think this is going to kick some butt. Here's a brief description of the shows scheduled to kick off the channel:
REMIXED explores the synergy between music and dance artists, with in-depth profiles and exclusive one-of-a-kind performances. Executive Produced by Harry Shum, Jr. (GLEE). Directed by Jeffrey Waldron. Featuring: Mike Song and Mike Tompkins; Keone Madrid & Mari Martin and Christina Grimmie; Jonathan "Legacy" Perez and DeStorm Power; Chadd "Madd Chadd" Smith and Paul Dateh; Jillian Meyers and Clara C; and Melinda Sullivan and Big Bad Voodoo Daddy.

S2DIO CITY is a beautiful, raw and mesmerizing show where dance is the language. Each episode features extraordinary dancers in unexpected locations that hint at a bigger mythology. Directed by Alice Brooks, Chris Scott, and Jamal Sims. Featuring: Kassidy Bright, Stephen "tWitch" Boss, Ian Eastwood, Marie "Pandora" Medina, Ceseare "Tight Eyez" Willis with Street Kingdom and many more world-class dancers.

MASTER CLASS allows viewers to take a master workshop in dance from world renowned choreographers that give both formal instruction and insight into the artistry of dance. Directed by Ryan Landels. Consulting Producer and Host: Galen Hooks. Featuring: Jamaica Craft, Marguerite Derricks, Brian Friedman, Akoman "AJ" Jones, Marty Kudelka, Tina Landon, Travis Payne, Fatima Robinson, Wade Robson, and Jamal Sims.
DS2DIO premieres on June 18. Subscribe to the channel on YouTube
here
. And for further information and updates, go to DS2DIO Facebook page
here
.