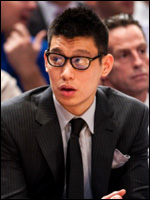 New York's playoff run was fairly disastrous, but you can't deny that the Knicks had a hell of a season, thanks in no small part to the world suddenly realizing that Jeremy Lin is kind of awesome.
That said, there's been quite a bit speculation about what's next for our favorite point guard, and questions about his future with the team:
Jeremy Lin? Steve Nash? Who will start at PG for Knicks in fall?
.
There are rumors that the Knicks are interested in acquiring two-time NBA MVP point guard Steve Nash. But where would that leave our man Jeremy?
In fact, rumors abound that Lin's current team, the New York Knicks, are interested in obtaining the services of Nash, a 16-year veteran who has spent the last eight seasons with the Phoenix Suns. Knicks forward Amare Stoudemire has stated publicly that he would love to have Nash, his former teammate in Phoenix, to join him in New York.

"What team wouldn't want a two-time MVP and assist leader, veteran point guard? What team wouldn't want that?" Stoudemire said of Nash. "But we do have Jeremy Lin here. We have confidence in him and what he can do for us."

Where would such a move leave Lin, a restricted free agent who rose from obscurity to international superstardom after taking over as the Knicks' point guard in February? After a stretch of seven incredible games, the buzz on Lin quieted a bit before his season ended for good with surgery to repair a cartilage tear in his left knee in early April.
Knicks interim Coach Mike Woodson has said that he wants Jeremy back next season, but stopped short of committing to Lin as a starter. Meanwhile, rumors abound that the Toronto Raptors also have an interest in Nash and Lin:
Could Jeremy Lin leave NY Knicks for Toronto Raptors?
Jeremy has got to do what's best for him. But I'd be a little sad if he parted ways with the Knicks, if only because I've amassed a lot of Jeremy Lin/Knicks blue-and-orange apparel in a very short span of time. I'd like to still put it all to good use.