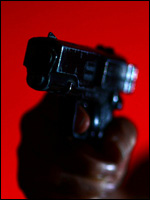 Dammit. What the hell is going on out in Philadelphia? News of another home invasion robbery targeting an Asian American household in Delaware County. This time, the victims were a dentist and his family:
Another Asian business owner targeted in robbery
.
Three masked men surprised Dr. Jim Cheng and his daughter as they arrived home in Radnor Township. The robbers forced the victims inside at gunpoint, tied them up, and ransacked the house, making off with cash and jewelry. Fortunately, nobody got hurt.
This robbery is the latest in a string of similar recent home invasions targeting local business owners of Asian descent in Philadelphia and the suburbs:
In this case, Dr. Jim Cheng doesn't know if he was followed to his home on Brooklea Road in Rosemont. He said in his Olney office on Thursday that he had picked up his daughter, 20, a University of Pennsylvania student, Wednesday night in University City before returning home about 11:30 p.m.

After they got out of the family's Mercedes, "I enter the garage and then suddenly, three people follow me," Cheng, 49, said. They pointed guns at him and one demanded, "Don't scream!"

His wife, 48, a University of Pennsylvania medical-school research specialist, was already inside their home.

The masked thugs forced him to lie facedown in the kitchen, Cheng said. They isolated his wife and daughter in other rooms.

They pointed guns at him, asked where money was and threatened to kill him if he didn't obey, Cheng said. He told them where to find money.

The thugs tied the family's hands behind their backs and stuffed their mouths with socks, Cheng said. After about an hour, they forced Cheng, his wife and daughter into the basement before they fled with cash and jewelry, he said. Police did not disclose how much money was taken.
Authorities are calling the robbery the latest in a recent trend of "culturally motivated crimes," based on the belief that Asians keep lots of cash in their homes. This is apparently different from the technical definition of a hate crime.
The robbers were described as black, wearing facemasks and baseball-style caps, one a Yankees hat. One man was about 30 to 35, heavyset, wearing a gray Polo sweatshirt. Another was in his late teens or early 20s, thin, and wearing a red shirt.
Police are asking anyone with information to call the Radnor Police Department's Investigations Unit at 610-688-0503. Stay vigiliant, people. More here:
Dentist, family targeted in Delco home invasion
.