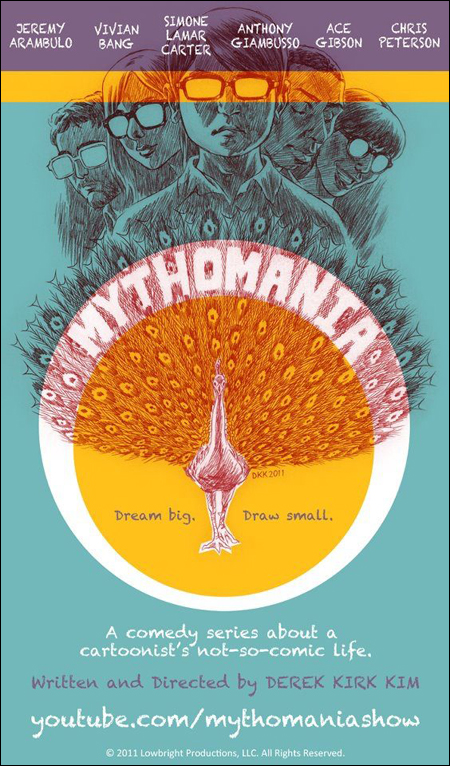 I'm a big fan of graphic novelist Derek Kirk Kim's work, but I only recently had the chance to check out
Mythomania
, the live-action web series he wrote and directed last year, and I love it. It's a quirky slice-of-life tale about a group of aspiring indie cartoonists dealing with love, art and rejection.
Derek is gearing up to produce a second season of
Mythomania
, and he's turning to the people for help through a
Kickstarter
campaign. First, take a moment to enjoy the first season of
Mythomania
here
. Then watch this video with Derek's appeal for your help to keep the story going:
Here's a little more information on the second season:
Putting together the 1st season of Mythomania was one of the most rewarding creative endeavors of my career thus far. As much as I love the comics medium, the incredible solitary nature of its process is something I've come to dread. In fact one of the aspects of comics-making that I specifically wanted to explore in Mythomania was the toll the medium's monumental demands at the drawing board can take on a cartoonist's psyche and social life. There's refreshing irony then in depicting it in the most gregarious storytelling medium of all - film. The downside, of course, is that film is also the most expensive medium of visual storytelling.

Many viewers of Mythomania have been clamoring for more episodes in the comments and on the facebook page, and the wonderful cast and crew are just as anxious to get back into production. But funding the entire first 9 episodes alone has left my credit card bloated and my bank account a dry husk. Which is why I am turning to you, the viewers, in hopes of continuing the show. The characters, and the actors that inhabit them, have so much more to share with you.

Thank you for taking the time to check out this project. If I'm lucky enough to reach my goal, you can be sure the money will be spent on the many (and seemingly unending) costs of filmmaking, from catering to equipment rentals to locations. I will stretch the money to as many episodes as possible with a minimum guarantee of 5 more episodes with the successful goal reached of $10,000. And if we're lucky enough to see the donations go beyond the goal, that will mean more episodes. With your help, we may be able to continue showcasing these diverse, under-served characters you rarely see in mainstream TV.
If you're familiar with Derek's comics, you can immediately recognize his unique voice, style and storytelling when it translates to the live action medium. And like his graphic novel work, it's all clearly drawn from a real place. That's what I like about
Mythomania
. And I want to see where the story goes next!
The goal is to raise $10,000 by June 17. I'm sharing this late, so there's not a lot of time left. If you watched the
first season
and liked it, pitch in a few bucks. For further information, and to make a pledge, go
here
. You can also get updates on the
Mythomania
Facebook page
. You should also check out
Tune
, the comic on which
Mythomania
is very loosely based.