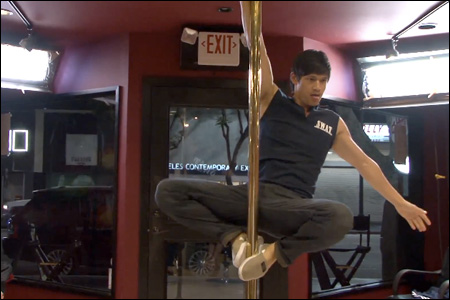 KevJumba. Harry Shum Jr. Pole dancing. The Jumba-Laya vs. The Dirty Harry. People, let me share one of the greatest videos in the history of the internet.
In the latest episode of YOMYOMF's
KevJumba Takes All
, in which the YouTube sensation challenges celebrities to a variety of duels and displays of skill, he faces of against
Glee
star Harry Shum Jr. in a pole dance off. Hilarity.
Hell yes. Get those dollars bills out:
If you ask me, after watching that, everybody's a winner. By the way, if you haven't seen
episode one
, be sure to watch Kevin face off against geek gal Felicia Day as they both take the SATs. And remember to subscribe to YOMYOMF
here
.