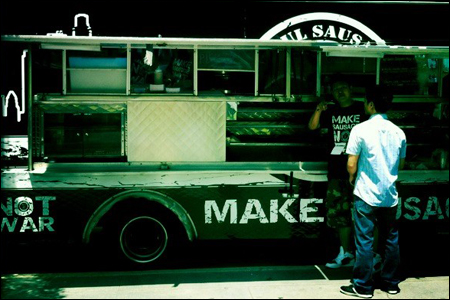 Hungry people of Boston, here's what's up.
Seoul Sausage
, a Korean barbecue-inspired street food company based in Los Angeles, is currently competing in season three of Food Network's
The Great Food Truck Race
.
And they've made it to the finals
. This weekend in Boston.
Out of eight trucks, competing over the course of six weeks in cities across the United States, the Seoul Sausage guys -- friends to this blog Chris Oh, Ted Kim and Yong Kim -- have made it to the final two. And this weekend, they'll be throwing down and serving up their delicious mobile Korean American cuisine on the streets of
Boston
. Will you help them?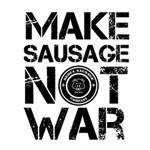 The specific location is under wraps for now [No, it's not. See the update below.] Be sure to follow the Twitter hashtags
#greatfoodtruckrace
,
#GFTR
and
#seoulsausage
for updates. The competition begins this Friday, June 15, so if you're in or around the Boston area, track them down and show them some love. Come hungry.
I definitely love to see Asian Americans represent in competitions like this, but I'm also a friend and fan of their food. And dude, if you were watching the show last season, you know that things
did not end well
for the Korean barbecue truck in the competition. A win would be symbolic redemption, sort of.
Oh, and spread the word! The rules of competition prevent Seoul Sausage from using their own social media to get the word out, but the rest of us can certainly tweet, retweet, update and broadcast. Go Boston! Go Team Seoul Sausage!
UPDATE: The Seoul Sausage Truck will be at Johnny Cupcakes Boston (279 Newbury St.)
today
at around 4:00pm, serving it up. COME HUNGRY, bring your friends and spread the word.
UPDATE 6/17: If you're in or around Portland, Maine, Seoul Sausage Truck will be serving it up at Ri Ra (72 Commercial St.) starting at 11:30am, Sunday, June 17. This is their last rally for
The Great Food Truck Race
. Represent! Come hungry, bring your friends and spread the word.