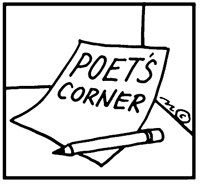 We're getting poetic up here. It's time for another installment of
Angry Poetry Corner
, a regular weekly spotlight on the work of API poets, curated by Cara, our Angry Asian Intern. Because you could use a little more poetry in your life.
In the corner this week, Edren T. Sumagaysay:
"Difficult"

It's difficult
To see the scar on his head
Where they cut his skull open
So that his brain wouldn't explode
From two blood clots and a stroke

To hold his arms
When he's trying to walk
And feeling
And knowing
He hates me for helping him

To explain to him
Like I would a child
Why it's important to drink prune juice in the morning

To drive him to his doctor appointments
To CVS for socks and underwear
To Gloria's Bakery because he likes the small pan de sal
And try to have a conversation with him
When he is permanently incoherent

To look into his eyes
Die every time they don't recognize me
Really see me
As a part of who he has been
His entire life before he almost died

To sit here
Wanting to explain everything in my head and fat heart
To any motherfucker who happens to read this
By writing a stupid poem
About him
The he
Who isn't the man
I once knew

To know
I'll never have him back
The way he was
To know he still thinks he is

To want to just pack everything
And move to San Francisco
Or to England
Or to Alaska
Just to have an excuse
Not to have to deal with this
The fact
He will die in this house

To not want to be the one
To call the paramedics
To have to drive my mother to the hospital
To sit
In the waiting room
Begging God to give us some peace

And to live the rest of my life
Lost in December

I wish one more joke
Could make this easy
Edren T. Sumagaysay. Director of the Undeniables. Google him if you'd like.