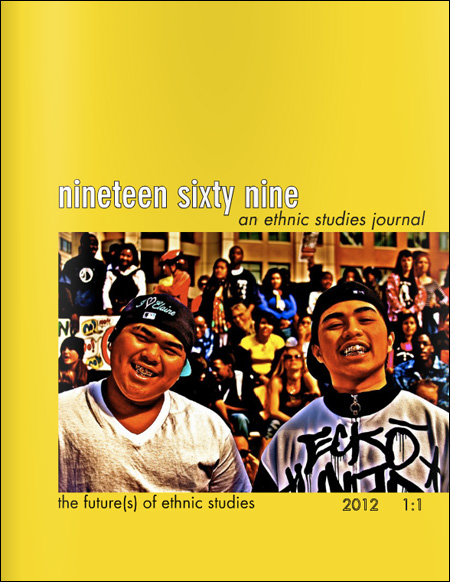 Heads up.
nineteen sixty nine
("NSN") is the official student journal of the Department of Ethnic Studies at the University of California, Berkeley. They just launched their
inaugural issue
, which features quite a number of Asian American Studies-themed papers. Here's a look at the contents:
Volume 1, Issue 1, 2012
Front Matter

Front Matter
Kim, Jason U

Articles

Derelict Visions: An Introduction
Kim, Jason U

The Future(s) of Ethnic Studies is in its Past(s)…and in the Surrounding Possibilities
Banales, Xamuel

Badass, Motherfucker, and Meat-Eater: Kit Yan's Trans of Color Slammin' Critique and the Archives of Possibilities
Luengsuraswat, Bo

Ethnicity in Wounded Spaces: Instrumentalism and the Making of Africa in Brazil
Kearney, Amanda

Stories of Identity, Race, and Transnational Experience in the Lives of Asian Latinos in the United States
Shu, Julia

The Americanization of a Filipina U.S. Navy Wife
Wee, Joseph Ryan

From Past to Present
Mullins, Elizabeth Heather

Visual Media

Visual Media
Kim, Jason U

Literary & Creative Works

Kim Ayu (Come Over Here)
Hernández, Claudia D.

The Jaguar Moon Has Risen
Hernandez Diaz, Jose

From My Home to Yours, From Your Home to Mine
Khanmalek, Tala; Andrews, Tria

Contributors

Contributors
Kim, Jason U
The issue is available as a digital download
here
. Read it and learn something. For further information on
nineteen sixty-nine
, and to stay updated on future calls for submissions, go to the NSN website
here
.