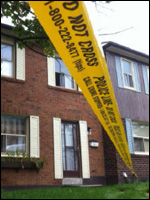 Grisly news out of Canada... This week, an estranged boyfriend was arrested in the gruesome murder of Guang Hua Liu, whose
body parts
were found strewn across the Greater Toronto Area:
Body parts case: Estranged boyfriend charged with murder in death of Guang Hua Liu
.
40-year-old Chun Qi Jiang, who had been in a relationship with Liu for about for years, is charged with second-degree murder. Police are calling the killing a "domestic-related homicide." Outside of that, as the investigation sorts things out, details are still coming together about what actually happened.
Jiang, 40, appeared in a Brampton court Monday on charges of second-degree murder of Liu, whose body parts were discovered in two Toronto-area parks in recent weeks.

Peel Regional Police Insp. George Koekkoek said Jiang, a construction labourer, was Liu's recently estranged boyfriend who had arrived in Canada from China in 2002.

It is believed that Liu had been dating Jiang for four years before her death. Police could not say when the couple broke up.

Police said Jiang was identified as a suspect early on in their investigation. At one point, they searched a Scarborough motel room because a man by the same name had checked in around the time of Liu's death.
Meanwhile, some of Liu's body parts are still missing and police still don't know how she died. Anyone with information is asked to call police at 905-453-3311 ex. 3205. More here:
Police collect evidence from home of 'body parts' suspect
.