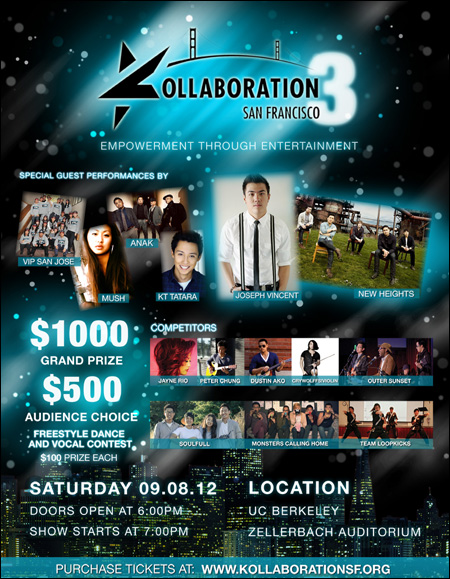 Heads up, San Francisco.
Kollaboration
is back! The world-famous Asian American talent competition returns to the Bay Area. Hosted by Kollaboration founder and former executive director Paul "PK" Kim, it's happening Saturday, September 8 at the Zellerbach Auditorium in UC Berkeley.
This year's performer lineup includes Seattle-based band New Heights and acoustic singer/songwriter Joseph Vincent, along with standup comedian KT Tatara, hip hop dance group VIP San Jose and the winner of last year's Kollaboration SF competition, ANAK. Here's a
promo video
featuring the show's competitors:
Here are some more details:
Kollaboration San Francisco 3 - September 8, 2012 @ Zellerbach Auditorium

Join us on September 8th, 2012 for the 3rd Annual Kollaboration San Francisco Talent Showcase! This year, Kollaboration SF returns to UC Berkeley's Zellerbach Auditorium with eight fierce competitors who will be facing off for a $1000 Grand Prize and $500 Audience Choice Award. Kollaboration SF is the largest Asian American entertainment event in the Bay Area and part of a nationwide movement to empower Asian and Pacific Islander communities.

When: Saturday, September 8, 2012 at 7PM
Where: Zellerbach Auditorium, UC Berkeley

** Hosted by **
Paul PK Kim - www.facebook.com/dreambigchannelpktown


COMPETITORS

Jayne Rio - www.facebook.com/jaynerio
Soulfull
Dustin Ako - www.facebook.com/DustinAk0
Outer Sunset - www.facebook.com/outersunset
Team Loopkicks - www.teamloopkicks.com
Peter Chung - www.facebook.com/peterchungmusic
Monsters Calling Home -www.facebook.com/monsterscallinghome
CryWolffs!Violin - www.facebook.com/pages/CryWolffs-Violin/261775710548604


GUEST PERFORMERS

Joseph Vincent - https://www.facebook.com/josephvincentmusic
New Heights - https://www.facebook.com/NewHeights
VIP San Jose - https://www.facebook.com/pages/VIP-SAN-JOSE/375602479317
Michelle "Mush" Lee
KT Tatara https://www.facebook.com/kttatarafans

Plus ANAK, winner of KollabSF 2- https://www.facebook.com/TheOfficialANAK
For further information about the show, including more on all the performers, and to purchase tickets, head over to the Kollaboration SF
here
.