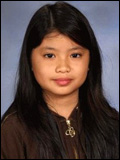 This week in Maryland, a man was convicted in the gruesome stabbing death of his 12-year-old stepdaughter:
David Hang convicted of killing Jessica Nguyen
.
On Wednesday, a jury convicted 43-year-old David Hang of first degree murder in the brutal killing of Jessica Nguyen. She was found dead -- stabbed more than forty times with a small sword -- in the basement of her home last May.
Hang was dealing with a variety of problems, and was apparently upset over the terms of a difficult, drawn-out divorce with Jessica's mother:
Vu and Hang eventually reached a divorce settlement, and Hang's attorney said he "did the right thing" and bought insurance for his companion himself. But prosecutors argued that Hang remained unhappy with the terms of the divorce and that the difficulties continued to weigh heavily on him.

"The defendant had money problems, relationship problems, medical problems. You talk about pressure every which way," Assistant State's Attorney Stephen Chaikin told jurors. The result, he said, was murder.

In his closing argument, Chaikin showed jurors a photograph of Jessica's body. Prosecutors said she had been stabbed and cut more than 40 times with a small sword.

"This was personal," Chaikin said, before later walking close to Hang and telling the jury: "Hold this monster accountable."
Hang is schedule to be sentenced in October. Prosecutors are reportedly planning to ask for life without the possibility of parole. Damn, seriously. Send this guy to jail forever. More here:
Man convicted of murder in stabbing death of 12-year-old Gaithersburg girl
.