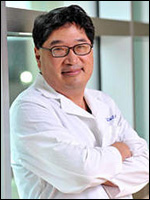 Tragic news out of Michigan... Over the weekend, a man died while saving two children from drowning in Lake Michigan:
Pediatric surgeon dies saving two children from drowning in Lake Michigan
.
Dr. Donald Liu, surgeon-in-chief and professor of surgery and pediatrics at Comer Children's Hospital, was at a beach in Berrien County when he spotted two children struggling in the water. He was able to help them but got pulled under by a riptide and drowned:
"Dr. Liu drowned while successfully saving two children who got caught in heavy surf in Lake Michigan," said his friend and colleague, Dr. Jeffrey Matthews, chairman of surgery at the University of Chicago Hospitals, where Liu practiced.

"He managed to help them but he got pulled down by the undertow himself," Matthews said. "He really died a hero."

Liu had recently celebrated his 50th birthday and was spending the weekend with his wife and three small children in Chikaming Township, about 90 miles from Chicago. Around 9:40 a.m., he saw the children in trouble off Cherry Beach, police said.

Liu went out to help and went under the water before rescue crews arrived, according to Jeff Thornton, a dispatch supervisor for Berrien County Public Safety. "He was a responder who went out to help," Thornton said, but he had no details.
Dr. Liu was 50 years old, was a husband and father of three, and had devoted his life to saving the lives of thousands of children. And in the end, that's exactly what he was doing when he died. He was a true hero. More here:
Comer surgeon drowns trying to save kids in Lake Michigan
.
UPDATE: Some more on the life, career and character of Dr. Donald Liu:
Surgeon who drowned trying to save kids: 'He had the biggest heart.'