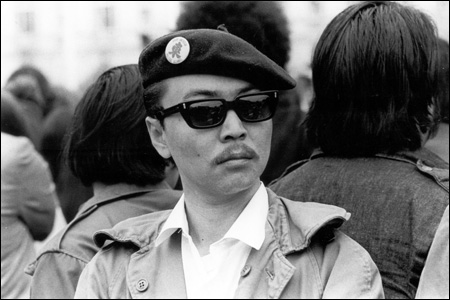 My head is spinning. Richard Aoki is revered as a fierce radical Bay Area activist, best remembered as a member of the Black Panther Party.
So here's the news that came like a punch to the gut. A new book claims that the Asian American militant icon was actually an undercover FBI informer:
Man who armed Black Panthers was FBI informant, records show
.
Aoki's work for the FBI was apparently uncovered during research for a new book,
Subversives: The FBI's War on Student Radicals, and Reagan's Rise to Power
, which will be published tomorrow. The book says Aoki was covertly filing reports on the activities of radical Bay Area political groups:
But unbeknownst to his fellow activists, Aoki had served as an FBI intelligence informant, covertly filing reports on a wide range of Bay Area political groups, according to the bureau agent who recruited him.

That agent, Burney Threadgill Jr., recalled that he approached Aoki in the late 1950s, about the time Aoki was graduating from Berkeley High School. He asked Aoki if he would join left-wing groups and report to the FBI.

"He was my informant. I developed him," Threadgill said in an interview. "He was one of the best sources we had."

The former agent said he asked Aoki how he felt about the Soviet Union, and the young man replied that he had no interest in communism.

"I said, 'Well, why don't you just go to some of the meetings and tell me who's there and what they talked about?' Very pleasant little guy. He always wore dark glasses," Threadgill recalled.
I'm having a hard time wrapping my head around this.
Granted, Aoki, who committed suicide in 2009, is not around to verify, deny or explain these claims -- claims that will no doubt help to sell the crap out of this new book. I'm not willing to accept this bombshell just like that, especially based on one article that happens to be written by Seth Rosenfeld, the same guy who wrote the book making these claims.
We're also talking about the FBI, who definitely aren't amateurs when it comes to shady discrediting tactics. It's not hard to believe that there are holdovers from that era who would go to these lengths to tarnish Aoki's legacy. Hell no. Not buying this. Need more information.