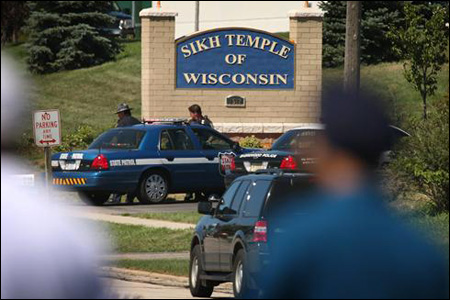 This morning in Oak Creek, Wisconsin, a mass shooting at a Sikh gurdwara left at least six people and the suspected gunman dead:
Shooting at Sikh temple: 7 dead, including suspected gunman, police say
.
Details about the attack, including the gunman's identity and motive, are still coming together, but the FBI is reportedly leading the investigation and treating it as an "act of domestic terrorism."
According to police, 911 dispatchers received multiple calls from the temple at approximately 10:25 a.m. local time. An officer who responded to the scene was treating a victim when he was "ambushed" by the suspected gunman in the parking lot, Oak Creek Police Chief John Edwards said. The veteran officer was shot multiple times and rushed to Milwaukee's Froedtert Hospital where he underwent surgery, Edwards said.

The suspect was shot and killed by a second officer, police said. The gunman was not identified, and no motive was released.

Tactical units conducting a sweep of the 17,000-square-foot temple discovered four bodies inside and three—including the gunman—in the parking lot. Edwards said "weapons" were recovered, but would not elaborate. According to CNN, two semi-automatic handguns were recovered at the scene, and member of the temple described the gunman as tall male with what appeared to be a "9/11 tattoo."
Considering the terrible history of violence and hate crimes that has impacted the Sikh community, particularly in the years after the September 11 terrorist attacks, it's hard not to immediately speculate that this was a hate-motivated mass shooting in the same vein. More here:
Gunman, six others dead at Wisconsin Sikh temple
.
UPDATE: Information is still pretty limited, but tattoos on the body of the gunman and certain biographical details led the FBI to treat the attack as an act of domestic terrorism:
Gunman's tattoos lead officials to deem Sikh shooting terrorism
.