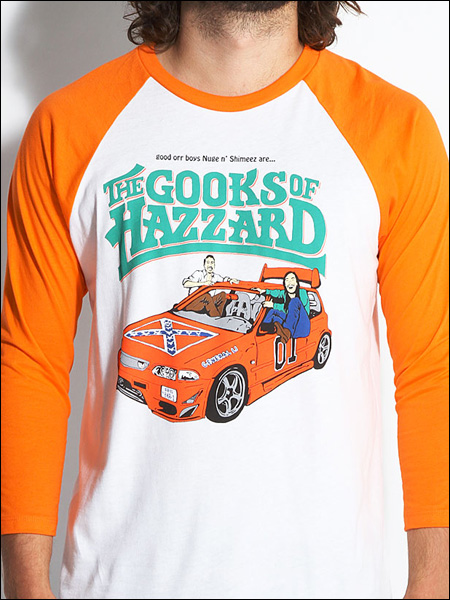 You've got to be kidding me. This is apparently a real shirt, courtesy of Baker Skateboards. TMZ, of all outlets, is on it:
Backlash Over Asian Slur T-Shirt
.
If you can't tell, that's supposed to be two Asian guys hanging out of a car painted up like the General Lee ("General Li") from
The Dukes of Hazzard
, Confederate flag and everything. The "Gooks" in question are pro skaters Don 'The Nuge' Nguyen and Daniel Shimizu. Classy.
"Gook" is a racial slur, plain and simple. Whoever thought this it was a good idea to celebrate this racist bullshit on a shirt is an ignorant moron. And everyone else who failed to tell him or her it was a bad idea along the way is also a moron. More here:
"Gooks Of Hazzard" T-Shirt Upsets Asians
.