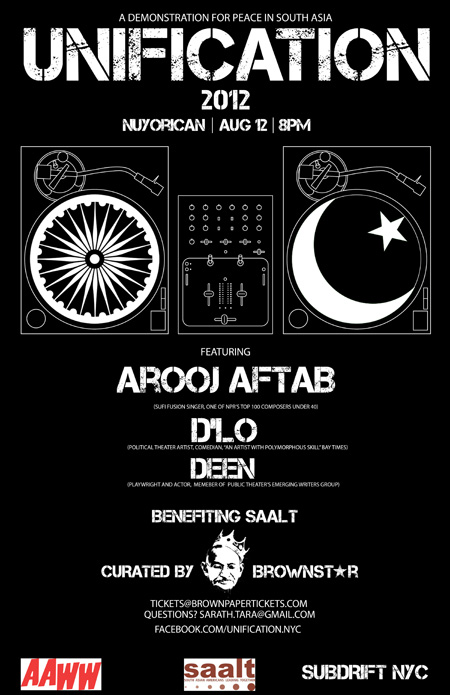 Stand together, NYC. On Sunday, August 12, the Brownstar Revolution presents
Unification 2012
, supporting SAALT. The theme this time is about standing together and celebrating strength -- especially in the wake of the tragedies in Wisconsin and Missouri earlier this week.
In addition to the line-up, which includes performances by D'Lo and Arooj Aftab and many more, the event is a demonstration for peace at home in the United States and South Asia. Here's more info:
STAND TOGETHER AND CELEBRATE OUR STRENGTH

A DEMONSTRATION FOR PEACE IN SOUTH ASIA & AT HOME

TICKETS @ http://ow.ly/cA5xx

Featuring performances by: Arooj Aftab, D'Lo, Deen, Parijat Desai, and Sham-e-Ali Nayeem

Sunday, August 12, 2012 at 8PM
Nuyorican Poets Café
$15 Student | $20 Early Bird (Until Aug 8th)
$25 Online (After Aug 6th)

Come to the fourth annual UNIFICATION! Highlighting the talent of the South Asian American community, we celebrate the region's first major victories in the anti-colonial movement and stand in solidarity for peace in the region and at home.

UNIFICATION 2012 is proud to once again support South Asian Americans Leading Together (SAALT) America's leading South Asian advocacy organization!

South Asian Americans Leading Together (SAALT) is a national, nonpartisan, non-profit organization that elevates the voices and perspectives of South Asian individuals and organizations to build a more just and inclusive society in the United States. SAALT is the only national, staffed South Asian organization that advocates around issues affecting South Asian communities through a social justice framework. SAALT's strategies include conducting public policy analysis and advocacy; building partnerships with South Asian organizations and allies; mobilizing communities to take action; and developing leadership for social change. More atwww.SAALT.org.

COSPONSORS:
The Asian American Writers' Workshop
Subcontinental Drift NYC
SALGA NYC
Sakhi for South Asian Women

For any and all inquiries contact Tara Sarath at sarath.tara@gmail.com or at UNIFICATION's Facebook page at facebook.com/UNIFICATION.NYC.
Tickets range from $15 to $20. You can get them
here
. For more information about the event, including the line-up, go to the Facebook
event page
. Find out more about SAALT
here
.