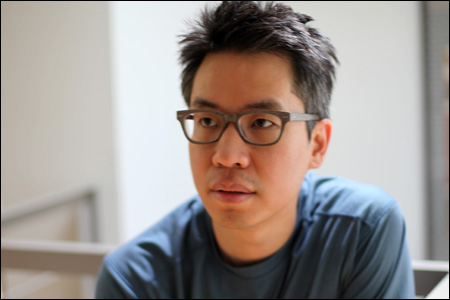 Hello again! Welcome to another edition of
Angry Reader of the Week
, spotlighting you, the very special readers of this website. Over the years, I've been able to connect with a lot of cool folks, and this is a way of showing some appreciation and attention to the people who help make this blog what it is. This week's Angry Reader is J.P. Chan.
Who are you?
J.P. Chan
Twitter:
@jpchan
Web:
www.jpchan.com
Kickstarter page for A PICTURE OF YOU, my debut feature film:
http://kck.st/Te3ZCE
What are you?
I'm a filmmaker, a New Yorker, a bike commuter, and a cat owner.
Where are you?
I live in Harlem, New York City. From my window, I can see a tiny sliver of Central Park peeking out from behind a huge public housing project. It's a quintessentially New York kind of juxtaposition.
I love this crazy city and I've wanted to live here ever since I saw my first Woody Allen movie in high school. Woody was my role model, and I thought by moving here I might one day become like him. But so far, the only traits we seem to share are neurosis and somewhat similar eyewear.
Where are you from?
Born and raised in Northern New Jersey to immigrant parents from Taiwan and China. I grew up in an area that viewers of
The Sopranos
would recognize. Growing up, the only Asian people in my town (outside my family) were, like my dad, working for the local pharmaceutical giant. I think it's become a lot more ethnically diverse since then, however.
What do you do?
Trying to balance two lives. During the day, I'm videographer for the
MTA
, which operates New York's transit system. I make
web videos
about trains, buses, and big transportation construction projects. It's a pretty cool use of the urban planning graduate degree that I got from NYU.
During just about every other waking hour, I'm an independent filmmaker. I've made
several short films
and just finished shooting my first feature film. It's called A PICTURE OF YOU and we're fundraising on
Kickstarter
right now for finishing funds. Please support us!
What are you all about?
I'm for equality of opportunity. I'm for inclusion. I like seeing people with no connections make connections. Much of my childhood was spent in a single-parent working-class immigrant household and I'll never forget how hard my mother worked just to keep us afloat. That kind of upbringing tends to make you allergic to anything that reeks of entitlement and privilege. It's my job to help open doors whenever I can, not close them.
What makes you angry?
People who are willing to cause suffering for the sake of personal gain or even just convenience. People who neglect their pets. People who skimp on the tip. Unnecessary movie sequels and reboots. The lack of In-N-Out Burger and really great Vietnamese food in NYC.
But thankfully, I spend far more time laughing than being mad about anything. Even at its worst moments, being alive is kind of awesome.