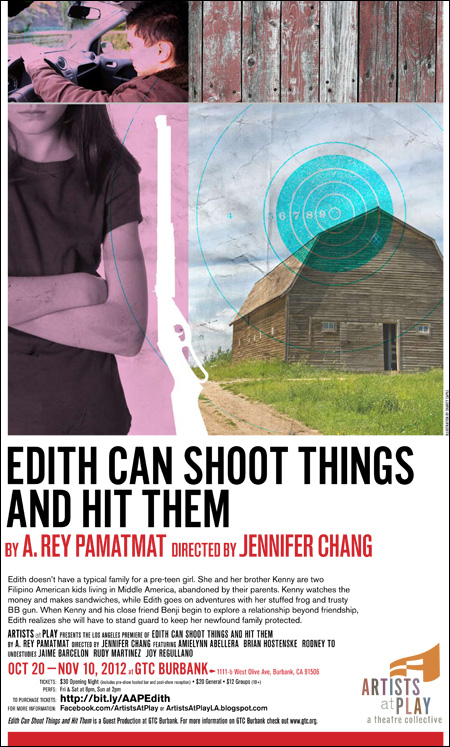 Artists at Play
presents
Edith Can Shoot Things and Hit Them
, a play about a Filipino American sister and brother who are abandoned by their parents. When Edith's brother and his close friend Benji begin to explore a relationship beyond friendship, Edith, equipped with a BB gun, protects her newfound family. The show is running in Los Angeles from now until November 10. Here's more info:
Edith Can Shoot Things and Hit Them has received multiple productions throughout the country and was awarded the 2012 Steinberg/ATCA New Play Award Citation. The play has been developed at The Public Theatre, Ma-Yi Theatre Company, The National Asian American Theatre Festival, Victory Gardens and the Humana Festival at Actors Theatre of Louisville.

The cast includes Amielynn Abellera (Dusty de los Santos, Katselas Theatre) in the title role, Rodney To (Wilfred, FX) and Brian Hostenske (Bloody Bloody Andrew Jackson, Center Theatre Group). Understudies include Joy Regullano, Jaime Barcelon, and Rudy Martinez.

What:
Edith Can Shoot Things and Hit Them
(Los Angeles Premiere)

When:
Saturday, October 20 through Saturday, November 10, 2012
Fridays and Saturdays at 8 pm; Sundays at 2 pm
Previews: Thursday, October 18 at 8 pm and Friday,
October 19 at 8 pm

Tickets:
$20 General Admission
$30 Opening Night on Saturday, October 20 at 8 pm
(includes post-show reception)
Discounts and group rates available
To purchase: http://blogspot.us2.list-manage.com/track/click?u=25bb9dc6edc7ecee31a9caf04&id=183a918db2&e=f89bd17b17

For more information, please visit ArtistsatPlayLA.blogspot.com or e-mail ArtistsatPlayLA@gmail.com.

Tickets are $20. Purchase them
here
. For more information about the play, visit the Artists at Play
website
.