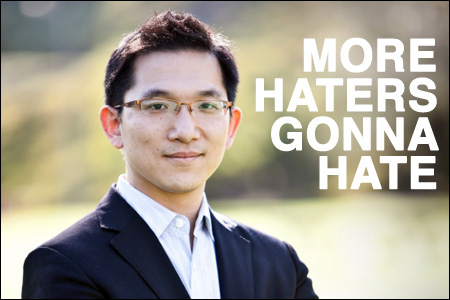 More on the political mudslinging and racist attacks getting thrown at congressional candidate Jay Chen. Things are escalating. There were
stupid signs
,
racist emails
, and now, a voice mail:
Jay Chen, LA-OC Congressional Candidate, Gets Another Anti-Asian Rant And Threat of Violence
.
Chen's campaign received the message on Saturday from someone who blocked his number. The caller, who professed support for Republican opponent Rep. Ed Royce, called Chen a "little Chinese fucker," "little shit" and "a piece of crap." Seriously. You can listen to the voice mail here:
Yup. Keeping it classy. Jay Chen's campaign has apparently been getting more and more racist messages like this after Royce started playing the China card in his campaign mailers, insinuating that Jay is getting financial support from -- where else? -- China. Evil Red China.
Royce's campaign, of course, is denying any connection to the hate speech. But they're taken it one step further and are suggesting that the whole things might be ploy planted by the Chen campaign. That is some
racist
bullshit. More here:
Racist Emails and Calls Tarnish SoCal Congressional Race
.