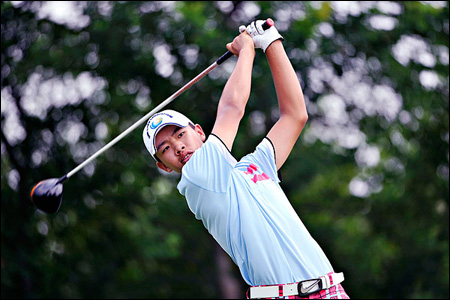 Wow. Over the weekend, Chinese golfer Guan Tianlang of Guangzhou won the Asian Pacific Amateur Championship at the Amata Spring Country Club in Bangkok, securing himself a invitation to the U.S. Masters in April. By the way, Guan is in the eighth grade:
Guan Tianlang, 14, gets Masters shot
.
At fourteen years and five months old, Guan will become the youngest ever to play in The Masters, a distinction previously held by Matteo Manassero of Italy at age 16. Could this kid be the "next big thing"?
Before this week, most of us -- myself included -- knew very little about the 14-year-old phenom from China. There was talk of him being the "next big thing," but it wasn't until this week that everyone saw how great he could really be when he captured the Asia-Pacific Amateur Championship.

Winning one of the most prestigious amateur events in the world at the ripe age of 14 would've made national news regardless, but Tianlang's victory was historic for another reason. The victory came with a spot in the 2013 Masters field.

That's right: a 14-year-old, the youngest player in Masters, and major championship, history, will be teeing it up at Augusta National next April. Let that sink in for a second. The thought of a kid two years from earning his driver's license in the U.S. teeing it up against the best players in the world is enough to make your head spin.
Pretty amazing feat. Not to mention the significant potential impact he could have on the sport in China. More here:
Guan Tianlang, just 14 years old, will be in the field at the 2013 Masters
.