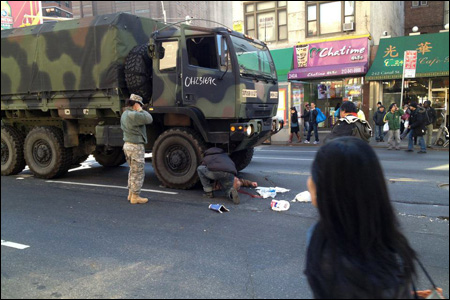 An 82-year-old man was struck and killed by a speeding National Guard convoy vehicle this afternoon in Manhattan's Chinatown:
National Guard Truck Fatally Strikes Pedestrian On Canal Street
.
According to one witness, the man was crossing the road near Centre and Canal streets when the last truck in the convoy ran a red light and hit him. However, a National Guard spokesman claims the victim actually
stepped off into traffic
:
The police said the truck, a personnel carrier, was traveling west on Canal Street when it struck the man, who was crossing Canal from north to south. It was not clear whether the man or the truck's driver was disobeying a traffic signal; no summons was immediately issued and the police said the investigation was continuing. The driver was not publicly identified.

Mr. Durr said the convoy had been involved in carting supplies and was en route to the Jacob K. Javits Convention Center to pick up items donated by Wal-Mart and then take them to a relief staging area at Floyd Bennett Field in Brooklyn for distribution.

"There was a police escort in front," Mr. Durr said. "The truck that struck the gentleman was the last vehicle in the convoy."

He added, "Apparently, the gentleman stepped off into traffic."
Here's one witness' account, posted on
Facebook
:
The National Guard/Army ran over and most likely killed a man on Canal St. (Chinatown) betw. Centre St. and Lafayette St at around 1:15 today (November 6th).

A convoy of 10 or so trucks were barreling down Canal St. I saw them run one red light, and I think it's pretty safe to say they ran the previous red light as well.

The man who was killed looked to be in his 40s or 50s, and judging by the Chinese language newspapers he was carrying, he was probably Asian.

His body was halfway under one of the truck tires and it looked like the back of his head got smashed into the asphalt after he was hit. Blood everywhere.

EMS arrived in about 7 minutes, tore off his shirt to try to give him CPR. They put his neck in a neck brace, so I'm assuming his neck was broken. After around five minutes they stopped giving him CPR and his body was going into convulsions.

It was pretty clear the NYPD was trying to clear all of the witnesses away. They made everyone leave the sidewalk (we weren't blocking foot traffic, so it was actually legal to stand there). They said they were going to spray down the street and we would get wet if we stood there. This never actually happened, no one got wet.

Khoda beyamorz.
Damn, that is awful. More here:
Elderly man fatally struck on Canal Street by National Guard vehicle delivering Sandy relief supplies
.
UPDATE: The victim has been identified as Queens resident Kwok Fu.
UPDATE: Here's an online petition calling for further investigation into Kwok Fu's tragic death:
Army National Guard and the New York Police Department (NYPD): Investigate the death of Kwok Fu in New York City Chinatown
.