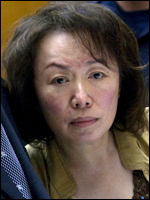 Whoa. This week in New York, the disgraced former dean of St. John's University, who faced trial for stealing over $1 million from the school, was found dead of apparent suicide:
Ex-Dean of St. John's, on Trial for Stealing Over $1 Million, Is Found Dead at Home
.
59-year-old Cecilia Chang was found hanging from a ladder inside her Queens home on Tuesday, a day after testifying at her own trial.
Chang was arrested in 2010,
accused
of embezzling more $1 million from St. John's while she was dean and president. She also faced charges of forced labor and bribery, accused of using foreign scholarship students as her personal servants:
The beginning of the end came in 2010, when Dr. Chang was arrested and charged in the case. Prosecutors said she had used her position to recruit students to the school, promising them scholarships but threatening to expel them if they did not perform her household chores, including washing her underwear by hand.

They said she had created bank accounts in the students' names, shuffling around tens of thousands of dollars that would ultimately end up in her pocket.

The government assembled a case so strong that Dr. Chang's lawyers could hardly offer a defense in opening statements. She had taken the money, her lawyer said, but it was owed to her. The students had performed her chores, but not under duress.

Prosecutors called students and university officials to the stand, and they piled mounds of incriminating evidence atop Dr. Chang. She took the stand in her own defense, against the advice of her lawyers, providing the only defense evidence offered before her death. The presiding judge in the case, Sterling Johnson Jr., declared a mistrial after her death was confirmed.
Upon hearing of her death, Judge Sterling Johnson Jr. declared a mistrial. I don't have a whole lot of sympathy for Cecilia Chang and her alleged crimes, but I have to say I'm kind of appalled with the judge's insensitive choice of words:
"Sayonara."
Seriously? Right, you were trying to be funny. Pardon me, but you're kind of an asshole.
More here:
St. John's dean found dead in apparent suicide after being accused of stealing $1M from school, using students as 'servants.'