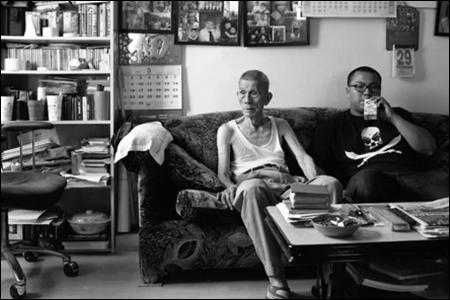 Um, okay. I was going to write a little something urging you to make a pledge to An Rong Xu and the Kickstarter campaign for his photography project,
Grandpa
. But I blinked, and the next thing you know, the dude has already surpassed this $2,000 goal. Practically overnight!
So I'll just tell you about it. In February, An Rong will be presenting his first solo photography show with work honoring his late grandfather. So he's raising funds to print, frame, hang and catalog the show. Watch this video to see some of his amazing photos:
More from An Rong:
The project you are viewing is about my grandpa. My grandfather raised me until I was 8 years old, taking me to first days of school, buying me ice cream from Mr. Frosty, and letting me get lost in Chinatown. Four years ago, he was diagnosed with throat cancer. Since his diagnosis, I've been photographing him as a way to get to know him and become closer to him. This project has transformed me, allowing for my to grow as an artist, a person, and a grandson. Last April, he passed away.

Recently, I learned that the work on my grandfather will be getting a solo exhibition in February 2013 at Gallery 360 in Boston. However, at the moment, I lack the funds necessary to print, frame, hang and catalog the show.

That is why I am asking for your support to help make this show possible. In return, I am offering original prints from the series and my website as rewards.

I want to be able to honor my grandpa with this show.
An Rong is a cool, talented guy who I've had the brief pleasure of working with. I can say with certainty that this is going to be an amazing show. He's already reached his goal, but there's plenty of time to become a backer and receive one of those cool prints as a gift. For further information, and to make a pledge, go to the Kickstarter page
here
.