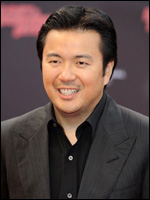 More Justin Lin movie projects! The director of
Fast Five
and
Better Luck Tomorrow
is attached to direct and produce the sci-fi thriller
Hibernation
:
Justin Lin to Direct Sci-Fi Thriller 'Hibernation.'
The details of
Hibernation's
plot are being kept under wraps, but according to producer Troy Craig Poon, it's a "dynamic futuristic thriller." Cool.
News also recently broke that Justin will produce the sci-fi comedy
Subdivision
through his Universal Pictures-based production company Barnstorm Pictures:
Universal, Justin Lin team on 'Subdivision.'
So I've lost count. How many movies is Justin attached to produce or direct? He's currently hard at work shooting the
sixth
Fast and Furious
movie (which looks pretty damn awesome), in addition to several other projects:
Lin, who's currently directing and producing the sixth installment of Universal's boffo "Fast and Furious" franchise, is developing a wealth of material including a movie about the L.A. Riots that Imagine is producing for U. He's also attached to direct Kamala Films' adaptation of "Lone Wolf and Cub" and an adaptation of David Henry Hwang comic play "Chinglish." Lin is repped by CAA, manager Dana O'Keefe of Cinetic Media and attorney John Sloss of Sloss Eckhouse Law Co.
I have a growing suspicion that Justin has a secret lab of multiple clone or android replicants of himself, allowing him to work on all these projects at once.
The Fast and the Furious 6
(or whatever they decide to call it) is scheduled to hit theaters on May 24, 2013.