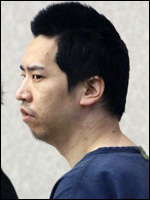 Ugh. In Vista, California, a judge ruled that a man accused of killing and partially dismembering his mother in 2010 will face trial for murder:
Son to stand trial in dismemberment of mom
.
During the three years since the murder, 31-year-old Bryan Chang was twice ruled incompetent to stand trial and sent to a state mental institution. At Monday's preliminary hearing, testimony indicated that he suffers from mental illness, but he had apparently been cleared for trial.
According to authorities, Chang killed his mother, then sliced off her right arm and placed it in the refrigerator:
Investigators also found pieces of bone — possibly the back of her skull — in the refrigerator when they discovered the 60-year-old businesswoman's body on a bathroom floor in her home on Jan. 25, 2010. A co-worker had called authorities to check on Sherry Chang after she failed to show up for work.

Blood and pieces of bone and flesh were found throughout the home on Santa Florencia off Santa Rosita, according to testimony during Bryan Chang's preliminary hearing, most of which was last week before Superior Court Judge Aaron Katz.

Detectives testified that Chang's neighbors at a Los Angeles apartment complex recounted odd and erratic behavior by Chang, including screaming and banging on his walls. They also said police had taken him in for mental health evaluations.

Detectives who searched Chang's apartment after the slaying said the residence was in disarray, with trash and boxes covering the floor. He had no food in the refrigerator, which was not working, sheriff's homicide Detective Dave Hillen said.
Damn, there's something wrong with this guy. If convicted under special-circumstance allegations that he tortured his mother and killed her for financial gain, Chang could face life in prison or the death penalty. More here:
Man Accused of Killing His Mother Arraigned
.